04 March 2009, ETF (Amphitheater)
starting at 17:00
Complementing the Intalio Tempo Framework
Ice Penov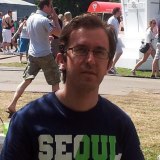 In this presentation we're going to have a look into the very essence of the paradigm behind the Intalio Tempo Framework, which is to discover the pattern of a usual business process. Also, I'm going to present the SmartUI tool, build in SmartGWT, that will support the environment for the management of such processes.
About the speaker
About Ice
Introduction to Flex, Air, and connecting Flex with a Java Backend
Corneliu Vasile Creanga
Flex is an Open Source RIA development toolkit based on the Adobe Flash Player, working both in browsers and desktop (through Adobe AIR platform) This session will present the main benefits of using Flex, it will cover the programming language and it will show how to easily connect Flex with Java backend. Advanced features such as data synchronization and offline functionality are also going to be covered.
About the speaker
Corneliu Vasile Creanga was hired as a Java Technical Lead by Adobe in August 2007. He graduated with a Computer Science degree in 2001 in Bucharest. He previously worked for Oracle as a software developer and business analyst and before that, in several small to mid-size software companies. His expertise is mostly related to Adobe RIA technologies, databases, O/RM frameworks, Java/Java EE, and implementing domain models. Corneliu is known for his inner drive to do things better and his enjoyment of technical debates.
Organized events
2023
26 September 2023, Netaville
10 February 2023, Netaville
30 January 2023, Netaville
2019
30 March 2019, Cineplexx, Skopje City Mall, Halls 5 & 6
2018
11 May 2018, FINKI Amphitheatre
31 March 2018, Cineplexx, Skopje City Mall, Halls 5 & 6
30 January 2018, FINKI Small Amphitheatre
2017
09 November 2017, FINKI Small Amphitheatre
11 March 2017, Cineplexx, Skopje City Mall, Halls 5 & 6
25 January 2017, FINKI Small Amphitheatre
2016
20 October 2016, FINKI Small Amphitheatre
2015
13 December 2015, Cineplexx, Skopje City Mall, Halls 5 & 6
04 November 2015, FINKI Small Amphitheatre
24 September 2015, Endava Offices, top floor
21 July 2015, Endava Offices, top floor
25 March 2015, Broz Cafe (1-st) floor
2014
22 November 2014, Cineplexx, Skopje city mall
30 September 2014, Club of Journalists (Клуб на новинари)
19 June 2014, PMF Building
26 February 2014, Club of Journalists (Клуб на новинари)
2013
22 December 2013, Cineplexx, Skopje city mall
02 October 2013, FINKI
23 February 2013, Skopje Fair
2012
06 June 2012, PMF Building
08 February 2012, FINKI
2011
23 November 2011, Cafe Opera
05 October 2011, Club of Journalists (Клуб на новинари)
20 July 2011, Skopje Fair Business Hall
20 April 2011, FEIT (Conference hall)
2010
18 December 2010, EU Info Center
03 March 2010, FEIT (Conference hall)
2009
15 July 2009, FEIT (Conference hall)
17 June 2009, FEIT (211)
13 May 2009, ETF (Amphitheater)
08 April 2009, ETF (Amphitheater)
04 March 2009, ETF (Amphitheater)
26 January 2009, ETF (Conference hall)
2008
24 December 2008, ETF (Conference hall)
Tweets by @JavaUserGroupMK
Sponsors
Supporters