JavaSkop (initially JavaDay) is a one day Java Community Conference organized by jug.mk. It started as a small event with local speakers in 2009, and last time, it grew to a whole-day community conference with two parallel tracks, international speakers and around 500 visitors.
Let's do that again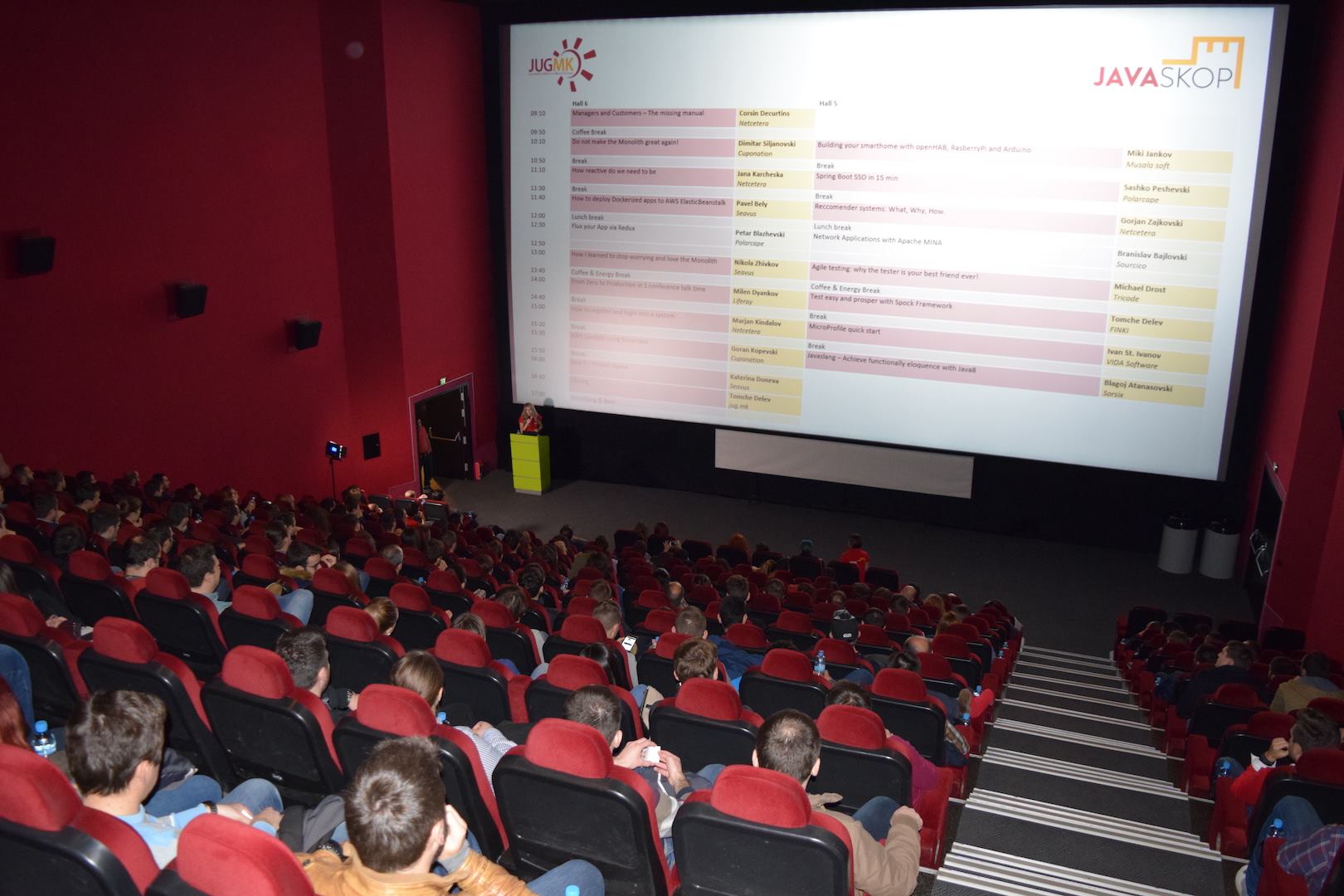 We need you!
JavaSkop'18 is scheduled for March 31st, 2018. In order to make a successful conference, we need quality content. If you, or a friend or colleague of yours wants to participate, check the details below, and submit your proposal.
When, where, how:
Date and time: March 31st, 2018, 09-17h.
Location: Cineplexx, Skopje City Mall.
Conference format: Two parallel tracks in neighboring cinema halls.
The topics are open to anything in and around the Java eco-system, e.g.:
Java or other JVM languages, JDK, specifics, improvements, future …
Java frameworks, Spring, Java EE …
Connected technologies: JavaScript, JavaFX, ECMAScript, TypeScript, Angular, React, HTML5/CSS3, SCSS, etc …
Emerging technologies: Machine Learning, Blockchain, IoT, AR / VR …
Databases
IDEs and Tools
Ops: (continuous) integration and delivery, virtualization, containers, orchestration, monitoring, distributed systems …
Methodologies: Agile, Not agile :), communication, education …
Soft skills, career management, success stories, lessons learned …
Various…
Types of presentations (Q/A sessions inclusive):
Full lecture, 40 mins
Short lecure, 20 mins
Ignite talk, 5 mins (20 slides, 15 seconds each)
OK, where to apply?
You can directly fill in your proposal in the CFP Form. The deadline is February 15th.
If you have any questions, contact us via our maling list, or join our Facebook page.